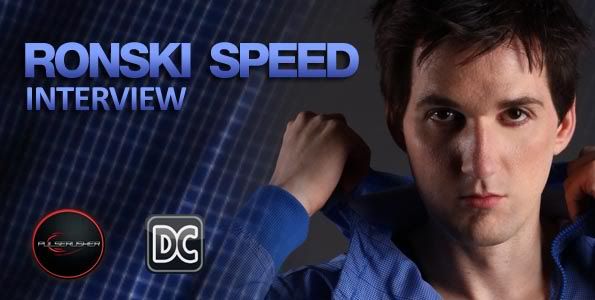 We Chat To Ronski Speed About who his heroes are, what inspires him and some of his favourite gigs.
Q:
I recently read somewhere, that you were born "Ronny Schneider", tell us a bit about "Ronny Schneider" and how it happened that he eventually became "Ronski Speed"?
Actually i think it is clear that Ronski is not my real name, actually it came from my name Ronny converted to Ronski and the 80's with a similar name.
Q:
I remember seeing the name "Ronski Speed" for the first time in the booklet of Paul Van Dyk's "Politics Of Dancing Volume 1" album, in the credit section for "Mirco De Govia's Epic Monolith", since then you have been a constant feature in Paul Van Dyk's sets, would you consider him to be one of your musical heroes? And are there other DJ's, producers or artists that you specifically look up to?
He is definitely a hero and a pioneer, furthermore i really respect the great ideas of Ferry Corsten very much.
Q:
You've been a major part of German based label "Euphonic" (Owned by trance legends Kyau & Albert ) since it's establishment 14 years ago, how did this meeting come about?
A friend of us brought us together, they build up their label and were searching fr artists and a certain sound. So we started to build u the label together.
Q:
Aside from a very impressive library of original productions and collaborations, you've remixed some of dance music's biggest anthems including "Above & Beyond – Alone Tonight", "Armin Van Buuren – Burned With Desire", "Binary Finary – 1998"… is there a track that you would love to remix… but you almost feel it's impossible to remix?
Hmm, not really every track depends on a try. 8)
Q:
Your collaboration with Filo & Peri, called "Propane", is yet again making a huge impact on dance floor's around the globe, how did the meeting with "Filo & Peri" come about… and is there anyone you would love to collaborate with in future?
Actually we played together in New York's Pacha and talked about doing something. After a few months and many many tries we finally came up with this tune. So i think we are very happy with it.
Q:
What is your production process? What inspires you? And what do you use to produce with? are you a hardware or software man?
Usually I'm searching the key idea the hook of a track an build everything else around. Getting inspired by everything around me, from music to travelling etc. When i started it was mainly hardware but now after some years it got banned from the studio as software is so much easier to work with. I'm a Cubase user from the scratch. 8)
Q:
Having been on stages all around the world, where are the best and worst gigs you've ever played?
There are so many good ones, like especially in eastern Europe also Asia and America as well. remembering love parade or nature one festivals which were big.I have had 1 specific gig in USA where the FBI was stopping the party, this was like in a movie. half an hour later the hall was empty and i played on my own with some dancers. later the audience got back. sounds like an American anti party movement. 8)
Q:
Where would we find "Ronski Speed", when he isn't DJ'ing or producing music? Do you have any hidden talents, hobbies or passions?
Usually relaxing and doing computer stuff. I like watching good movies and TV Series.
Q:
Is there a specific track that always seems to find a place in your sets? Something you never leave for a gig without? Something that just works every time?
Actually one of my biggies "The Space We Are"
Q:
What can we expect from Ronski Speed In the near and distant future?
Right now working on new own stuff. We are releasing my new single "Out Of Control" very soon on Euphonic and re-release "To Be Loved" with brand new remixes on Spinnin.