There are some names that just have an automatic re-action within the hearts and minds of clubbers and EDM enthusiasts around the world, one such moving name, is that of German Powerhouse, and one of dance music's most recognised icons,



Q:the amazing Alex M.O.R.P.H.!But behind that iconic guise, is an incredible man born: Alexander Mieling. Tell us more about how Alexander Mieling became ALEX M.O.R.P.H.?
Incredible man? well thank you ;-)
I started with DJing when I was very young, and I grew into the scene and started to produce, then I left the acid scene which I was a part of and found my place in Trance. I'm in this genre now since more than 13 years or so, and I'm happy with it. The longer I am in this business, the more I become Alex M.O.R.P.H. ;-)
Q2:You're one of a select few DJ's who has managed to completely re-invent himself over and over, while keeping fans and critics impressed. What is your production process? How do you keep your sound fresh, yet unmistakably M.O.R.P.H.?
Over the last years I always tried new stuff besides the typical energetic driving power Trance sound that most people know me of. I tried slowing things down, I tried new sounds and experimenting with a lot of things to keep it fresh. Some things worked, others didn't. So I combined those parts again without throwing those elements that are responsible for the trademark M.O.R.P.H. character over board. It's a constant process and it's a link between the familiar sound character and new elements that are floating around it. When you find the right spot there, you will be able to reach new audiences without losing the die hard fans that supported your sound for years. As long as the quality is good, it will be accepted, and I always put a focus on the quality.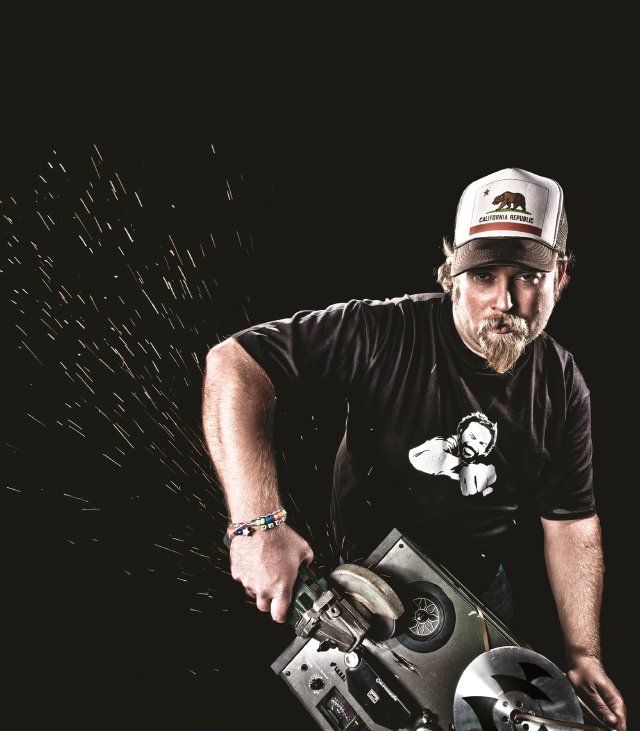 Q3: While most Trance DJ's have quite a uniform look, you've gone in a completely different direction, and really made it your own. The gotee, longer hair and trucker cap…Is this something you purposefully did, to be different… or quite simply by chance?
Well, it just happened. This is me, you know? I never thought about how to differ from other artists or how I should look for the media and all that. I just wear the stuff I like and that's the M.O.R.P.H. style, take it or leave it, haha! It's not just because I want to look different than the other Trance DJs. I feel good as I am and I feel it suits me very well I think.
Q4:You've collaborated with some amazing producers and singers in the past, anybody you'd love to work with in future?
There have always been names that I wished to work with of course. Some already happened, some probably never will. Let's see what the future has to offer!
Q5:Who would you consider to be some of your greatest influences musically?
The good old Trance heroes Vangelis, Jean Michel Jarre, some Ambient collections and some classical orchestra heroes.
Q6:Your "Purple Audio" Album is one of my personal favorite Albums, And luckily for myself and Trance fans all around the world, you're about to release your brand new album very soon, tell us a bit more about the album?
My new artist album will be released in about a week, it's called "Prime Mover" and I will go at least 3 steps further than I did with Purple Audio. I'm absolutely happy about the quality and musical development that I reached with "Prime Mover".
You should be happy as well.
Q7:What is there to know about Alex M.O.R.P.H. that we don't know already? Any hidden talents or hobbies?
Not really, to be honest. I'm into painting, but this should be known already as I talked about that before. I also enjoy movies and stuff everyone else likes as well....except football, haha, I hate it!
Q8:What's playing on your iPod/Mp3 Player or Car Radio at the moment?
I always have very different stuff playing in the car, new promos, own unfinished stuff for soundchecking etc etc. so I don't listen to particular albums or artists when I'm on the road. It also depends on my mood, the weather and other factors. Not always the same.
Q9:What can we expect from Alex M.O.R.P.H. in the near and distant future?
Besides the album which comes out now, I'm working on some other tracks & remixes. Always expect to see some new quality M.O.R.P.H. stuff. We are working out some really great things at the moment that will hit you hard when the time's right, so look out and stay tuned!
For more info about Alex M.O.R.P.H. and his brand new album entitled "Prime Mover" checkout the following links.
Pre-order on iTunes now:
http://bit.ly/PrimeMoverIT
Available on other portals on July 13th!
http://www.facebook.com/pages/Alex-MORPH-Fanpage/166906372876
http://www.twitter.com/armada
http://www.twitter.com/alexmorph
http://armadamusic.com/googleplus
http://www.armadamusic.com
http://www.alexmorph.com/