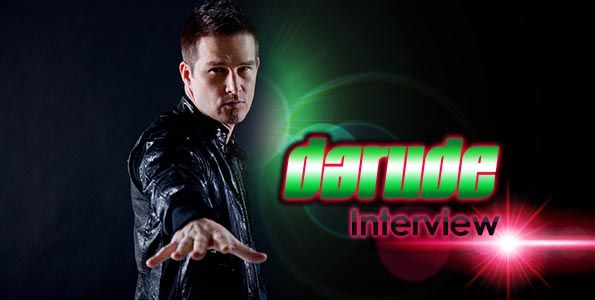 Scandinavia has produced some of the biggest names in EDM for at least the last decade, with artists like Super8 & Tab, Daniel Kandi, Bjorn Akesson, Swedish House Mafia and most recently Avicii, heading the top of the charts. One artist who has arguably been on more compilations the world over than the before named artists combined, is platinum selling DJ/Producer DARUDE!
Q1. Thanx to a recent explosion of Dance Music in the world of pop music, A whole new generation of "Dance" lovers might not know exactly who the man behind "Darude" is. Tell us a bit more about Ville Virtanen and how you got your start in EDM.
A1: - I've always been a music lover and highly interested in music, and I started making my own music in 1996 after some friends of mine showed me what they were doing with just a computer and some freeware programs. I realized that I could make my own music and decided to have a go at that. I bought my first PC and started fooling around with it and losing too much sleep... ;) I never thought about 'making it big', I was just making music because I liked it so much. I tortured my friends with my early production and sent some demos to magazines and radio stations in Finland in '97 and '98 and also to some record companies and got some good feedback, but nothing more, they weren't really looking for instrumental electronic dance music at that point, but mainly Finnish dance pop and such. I made music on my own and also had two separate projects with two of my friends. On a Wednesday night in August '99 after his DJ set I gave my later-to-be-producer, Jaakko "JS16" Salovaara, a demo CD (my third one for him actually) which included my original demo of 'Sandstorm' (and some other tracks of mine) which got Jaakko's attention. All I wanted was his professional opinion of the tracks and some tips about better sounds and things like that. What I got was a phone call a week later. We met the same night in the same club in Turku, Finland, and agreed on working together. We spent two or three days in his studio and the next Tuesday 'Sandstorm' (plus his JS16 remix) was ready as you hear it now on the single. It took a few weeks to get the track mastered and to get the singles from the plant and to get it on the Finnish Dance Chart. After three weeks it was number one and stayed there for 16 weeks. The things snowballed from there and I started touring in Finland, then Scandinavia, Germany, Holland, France, Spain, UK, US, Australia, all over the place.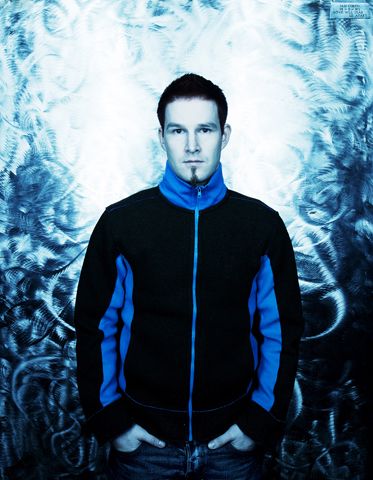 Q2. While you've released some extremely memorable singles, you've also released 3 great Albums, and remixed some of EDM's greatest tracks, do you have a different approach to singles , albums or remixes… or is it all the same to you?
A2: - I think a track (future single or not, that's to be decided usually later after there's several tracks to choose from) is the thing that I concentrate on first and most. Making an album (which sadly these days seems to be a disappearing thing, especially in the EDM world) is a lot bigger undertaking and, at least to me, is as such too big a thing to try and create on one go. Obviously cool start-to-finish full-on concept albums are possible, too, but how I think of an album is that any track made in a certain period of time one after another can be put together to form an album and when you've decided which tracks are going to be on the album, then you can plan the track order based on feel, bpm, maybe key and then revisit any tracks you think need updating or other adjustments to fit better the flow of the album.
Remixes are, or can be, one level easier as someone already did the creation work and you "only" need to do your interpretation of it. The difficulty lies in deciding how faithful to the original you're going to have your remix be for it to be respectful enough and how different for it to be cool and worthy enough. I like doing remixes, because you can both re-use some stuff you've created earlier when making your own original music and you'll most likely come up with some new stuff that you can use later when creating your own new music. Recycling your own signature sounds (to a point, of course!) helps your fans recognize your new music and helps you stand out from the rest of the producers. My style has changed slowly over the years, but I think there's pretty much always something carried over from an earlier project to the next one, and I think that bridging might help not alienating old fans when trying out new ideas and being influenced by "the sound of today".
Q3.You released a compilation at the end of 2011, that shares a name with your bi-weekly podcast called "The Salmiakki Sessions"… from what I gather "Salmiakki" is a type of salty treat in Finland. How did you decide to give the podcast and your compilation this peculiar title?
A3: - I love salmiakki and I often have some with me in the studio, so at some point back in the day when I was mixing my first radio mixes I was simultaneously chewing some salty'n'sweet treats and thought that what could be a better name for my show than the thing that fueled those mixing sessions! It's perhaps not the easiest of words or concepts to people outside of Scandinavia, but at least it's a pretty unique name and definitely describes my mixes well, too.
Q4. I imagine you've probably had to answer questions about "Sandstorm" more than any other question, you've ever heard… But who can expect anything else? It's an absolute classic. What are the chances of an updated remix ever seeing the light, or are you sick to death of playing it.
A4: - It's very likely that at some point there'll be official new mixes, but I don't have a time even pencilled down yet, just waiting for the right moment and some more great mixes landing on my desk… There are numerous awesome mixes that I've played along the years, both from the original remix packages and from close producer friends who with my permission or because of my request have done killer mixes, and I've played them all over the place and mashed them up with other tracks and samples etc. I get asked to play it at every gig and I usually do, but I think I played the original mix myself last in like 2002 J, but no, I'm not sick of playing it, because that track "made me" and people still seem to go bonkers when I play it!
Q5: You co-own a label with Randy Boyer named Enmass records, A label started after the unfortunate passing of Eric Tadla. How did the partnership between you and Randy come about?
A5: - Randy and I go back over a decade now, we actually met on my very first US gig in December 2000. We didn't become close friends immediately then, but reconnected a couple of years later. We started to talk a lot about music and production and business stuff and we realized that our thoughts about a lot of stuff is very similar. While our tastes in music are maybe a little different, there's still a lot of overlapping in our track selection and production ideas and styles. When I told Randy that I'm going to start my own label, he told me he'd been thinking about the same thing, and we just decided to combine forces. We thought that it'd lighten the workload a little, and that we'd benefit from each others networks and fan bases and of course learn things from each others' practical experiences. The idea was out there for a while and when we were on the road together in 2008, we got to know each other face to face, you know, not just via email or chats, and felt comfortable with everything and that's when we really got things rolling.
Q6. What are the chances of the Enmass production project making a return with you and Randy?
A6: - No chance, I'd say, Enmass was Randy and Eric, and I could never take his place. With EnMass Music, though, we hope to keep the name alive and sincerely hope that Eric would approve what we're going after with it.
Q7: Are you a hardware or software man, when it comes to production… ?
A7: - 100% software these days, total recall rocks! My US studio, where I've mostly worked for the last four years, is purely software-based, the only hardware I have are a Novation midi controller, Genelec monitors, MoTU audio interface, a Mac Pro and Røde K2 mic and pre amp. I have to say that Logic Pro is definitely my favourite tool. It has everything; great midi and audio editing, awesome software sampler, synths and effect plug-ins, I can do a track in it from start to finish, even on a laptop. I also like Melodyne and Ableton Live a lot. In my Finnish studio I have a good bit of beloved hardware, like Korg Triton, Korg MS2000, Access Virus C, Roland JP8080, which all are awesome, but which I can do without these days. I've sampled some of my most used sounds from the hardware I have and sadly they're mostly gathering dust these days, but I don't want to sell them either as they're part of my history and also from tech point of view I might need them for re-doing some stuff one day.
Q8: What has been your best and worst experience within the EDM scene thus far?
A8: - Best thing is absolutely the awesome dance music loving people I meet. Nothing is more amazing than to land in some city, shoot to a club full of people and get to play loud music to an appreciative crowd. It's still mindblowing to me that people actually line up and pay money to come to see me spin, like how crazy is that! I'm very grateful!
Worst was for a while the haters and back-stabbers… Until I realized that most of them are just bitter for whatever reason, nothing really to do with me, and too afraid to try something for themselves. Now I laugh at the biggest insults or straight-up lies I sometimes see on forums or Facebook. The shady business side of the scene is a reality that I've needed to tackle with legal help a couple of times and sometimes just had to take it to the chin, too. Some people are just shameless out there, and I hate to say it, but it definitely at times momentarily has made me more cynical about people, which by nature I am not.
Q9: I love your work with Blake Lewis, and admire both of your skills immensely… is there someone specific you'd love to work with in future?
A9: - My standard answer here is: Madonna! She hasn't called yet, but I'll be ready! ;) Anyway, Blake and I just touched base the other day and while talked about nothing that specific, looking in my crystal ball I see another Blake Lewis & Darude collaboration in the future, too.
Q10: What can we expect from Darude in the near and distant future?
A10: - I'm working on my next release, an original artist album, but I haven't set any deadlines or release dates as I've had a bit of a hard time finding time for studio, because we have some nasty health issues in the family and I've had to take care of my loved ones. The album is shaping nicely, though, and I've already test played several tracks at my gigs and been really happy with the response so far. I've got several collaboration tracks already and there will be a couple more still, and a re-work or two of some big tracks of last decade, which I'm really excited about. Before my own releases, there'll some Darude touch on our label EnMass Music's releases. I usually do a remix alone or with one of our EMM artists like Randy Boyer or Weirdness. More info on anything Darude-related can be found on
www.darude.com
and
www.enmassmusic.com
and you can get in touch with me and the label team directly on www.
facebook.com/darude
and
www.facebook.com/enmassmusic
as well as hear previews of our music.